Once you have authorized Vendorati in your Amazon Seller Central it is very important to keep your product costs updated. If you don't, your profit margin, ROI, and other KPIs will not be 100% accurate.
Step 1: Login to your Vendorati account, go to the Products section of the main menu and click on Download current product costs.

Step 2: Update the file and import your COGS to Vendorati.

You can download the .csv file containing a list of all your SKU, update it and then import it back to Vendorati. Then the software will automatically update the costs for you in the app, or you can choose to update each SKU manually using the pencil icon to manage the cost information.
Step 3: Check and manage your COGS data at a SKU level.
Open any of the products on the list, searching, ordering, or filtering by SKU, ASIN, Manufacturer, Brand, and/or product title to check and manage the cost information per marketplace.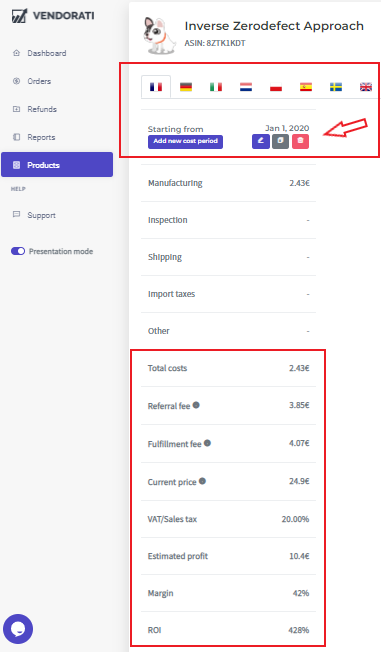 Users can add new costs periods and keep the previous data for analysis and edit, copy and delete the COGS in each marketplace in which they have listed the product.
You will be able to add any cost: manufacturing, inspection, shipping, import duty taxes, and any miscellaneous costs in Other. Then we will add to the total costs Amazon's fees to get to the current sales price. It is crucial not to forget to add the VAT rate charged on each product. The estimated profit amount, margin, and ROI are displayed at the bottom for your reference.